Antimicrobial resistance: a global view from the 2013 World Healthcare-Associated Infections Forum
Antimicrobial Resistance and Infection Control
2013
2:31
Received: 31 October 2013
Accepted: 31 October 2013
Published: 18 November 2013
Abstract
Antimicrobial resistance (AMR) is now a global threat. Its emergence rests on antimicrobial overuse in humans and food-producing animals; globalization and suboptimal infection control facilitate its spread. While aggressive measures in some countries have led to the containment of some resistant gram-positive organisms, extensively resistant gram-negative organisms such as carbapenem-resistant enterobacteriaceae and pan-resistant Acinetobacter spp. continue their rapid spread. Antimicrobial conservation/stewardship programs have seen some measure of success in reducing antimicrobial overuse in humans, but their reach is limited to acute-care settings in high-income countries. Outside the European Union, there is scant or no oversight of antimicrobial administration to food-producing animals, while evidence mounts that this administration leads directly to resistant human infections. Both horizontal and vertical infection control measures can interrupt transmission among humans, but many of these are costly and essentially limited to high-income countries as well. Novel antimicrobials are urgently needed; in recent decades pharmaceutical companies have largely abandoned antimicrobial discovery and development given their high costs and low yield. Against this backdrop, international and cross-disciplinary collaboration appears to be taking root in earnest, although specific strategies still need defining. Educational programs targeting both antimicrobial prescribers and consumers must be further developed and supported. The general public must continue to be made aware of the current scale of AMR's threat, and must perceive antimicrobials as they are: a non-renewable and endangered resource.
Keywords
Antimicrobial resistanceAntimicrobial conservationAntibiotic stewardshipInfection controlHand hygieneSurveillance networksCare bundlesEnvironmentRegulationsHuman medicineAnimal medicineGlobal healthWorld Healthcare-Associated Infections Forum
Background
There is nothing new under the sun, least of all antimicrobial resistance (AMR) [1]. Microbes that are antibiotic producers have always needed to be resistant to their own antibiotic. What is rapidly changing, however, is the scale of this resistance and its impact on human beings. Microbes have globalized along with their hosts, while at the same time antimicrobial consumption by these hosts—both humans and animals—has exploded. The gene pool for antimicrobial resistance has never been so accessible, nor its selection pressure so strong.
Warnings of increased resistance are not new. Some were issued prominently well before antimicrobials became widely available. Alexander Fleming's Nobel Prize acceptance speech is often cited for his admonition that "it is not difficult to make microbes resistant to penicillin in the laboratory by exposing them to concentrations not sufficient to kill them…there is the danger that the ignorant man may easily under-dose himself and, by exposing his microbes to nonlethal quantities of the drug, make them resistant" [2].
But while resistance in the targeted organism was a concern, the massive collateral resistance among the myriad "bystander" organisms composing the human microbiome was likely not anticipated [
3
]. Meanwhile, the miracle drugs were transformative, both in reality and in the psyche of millions (Figure
1
). In 1954, the USA produced just under 1 million kilograms of antimicrobials; annual production in this country alone now exceeds 16 million kg [
4
]. The magic bullet described by Paul Ehrlich had launched, and its life-saving trajectory continues.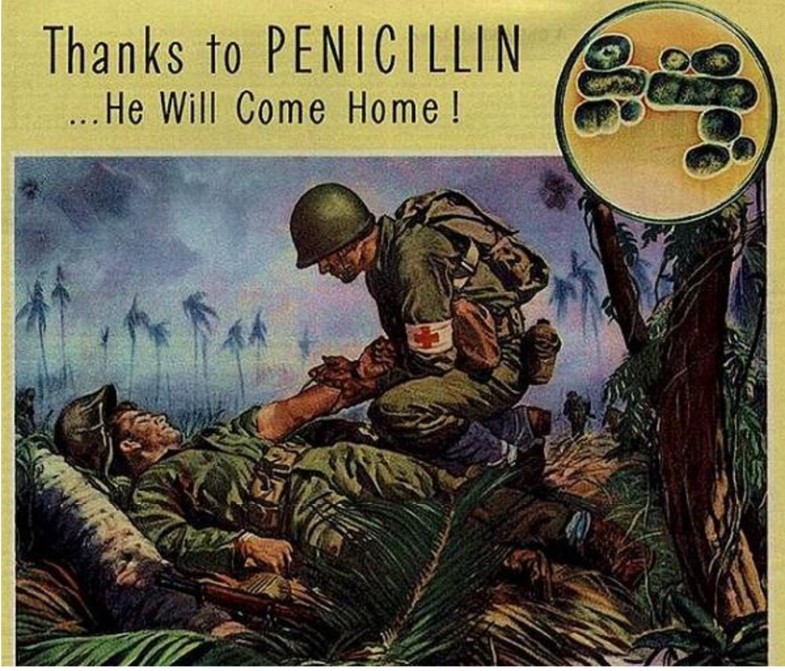 Our ability to develop and mass-produce over 25 classes of antimicrobials in seventy years may seem monumental—indeed, many hailed the new antibiotic era as the end of infectious diseases. Unfortunately, the game is in fact rigged. The infinitesimal generation time of a microbe will always confer it the advantage: it has infinitely more opportunities to gain resistance genes than we have to create new antimicrobials [5]. In this race, humans are being outrun: there have been no successful discoveries of new classes of antibiotics since 1987, while new, multi-resistant pathogens such as carbapenem-resistant enterobacteriaceae (CRE) are spreading with unprecedented alacrity [6].
The fourth biennial World Healthcare-Associated Infections Forum (WHAIF) met in June 2013 specifically to address the rapid spread of AMR. Seventy world experts from over thirty countries gathered in Annecy, France, to present and discuss their various successes—and failures—in the domain of AMR in order to better define future strategies to meet its challenge. In this position paper, we summarize the Forum's key messages and conclusions.
Conclusion
Antimicrobial resistance is a clear and present danger. Immediate and coordinated measures must be taken worldwide to safeguard remaining antimicrobials and facilitate the development of novel antimicrobials. Bans on nontherapeutic antimicrobial consumption in livestock must be effectively championed despite strong resistance from industrial sectors. Conservation programs must be further optimized and implemented in other, non-acute healthcare settings such as long-term-care facilities. Educational programs targeting both antimicrobial prescribers and consumers must be further developed and supported. The general public must continue to be made aware of the current scale of AMR's threat. International collaboration among researchers and policy-makers must solidify to effect lasting reductions in the spread of antimicrobial resistance.
Declarations
Acknowledgments
Benedetta Allegranzi (WHO), Antoine Andremont (France), Rifat Atun (UK), Lidao Bao (China), Hanan Balkhy (Saudi Arabia), Luis Bavestrello (Chile), Marc Bonten (The Netherlands), Jean Carlet (France), Yehuda Carmeli (Israel), Otto Cars (Sweden), Peter Collignon (Australia), John Conly (Canada), Sara Cosgrove (USA), Alexander Friedrich (The Netherlands), Petra Gastmeier (Germany), Abdul Kulakkattil Ghafur (India), Achilles Gikas (Greece), Marek Gniadkowski (Poland), Herman Goossens (Belgium), Thomas Gottlieb (Australia), M. Lindsay Grayson (Australia), Manuel Guzman (Venezuela), Stephan Harbarth (Switzerland), Loreen Herwaldt (USA), Nordiah Hj Awang Jalil (Malaysia), Alison Holmes (UK), Po-Ren Hsueh (Taiwan), Bi Jie Hu (China), Susan Huang (USA), Vincent Jarlier (France), William Jarvis (USA), John Jernigan (USA), James Johnson (USA), Mitsuo Kaku (Japan), Eui-Chong Kim (South Korea), Keith Klugman (USA), Jan Kluytmans (The Netherlands), Ramanan Laxminarayan (India), Thi Anh Thu Le (Vietnam), Moi Lin Ling (Singapore), John McGowan (USA), Maryn McKenna (USA), Cliodna McNulty (UK), Shaheen Mehtar (South Africa), Dominique Monnet (ECDC, self-funded observer), Maria Luisa Moro (Italy), Margaret Murphy (Ireland), Dilip Nathwani (UK), Babacar Ndoye (Senegal), Lindsay Nicolle (Canada), Eli Perencevich (USA), Trish Perl (USA), Carmen Lucia Pessoa Da Silva (WHO, self-funded observer), Didier Pittet (Switzerland), Rosana Richtmann (Brasil), Christine Rozan (France), Matthew Samore (USA), Kent Sepkowitz (USA), Wing Hong Seto (China), Sanjeev Singh (India), Robert Skov (Denmark), Arjun Srinivasan (USA), Evelina Tacconelli (Italy), Paul Tambyah (Singapore), Christiana Vandenbroucke-Grauls (The Netherlands), Andreas Voss (The Netherlands), Timothy Walsh (Australia), Bob Wachter (USA), Henrik Wegener (Denmark).
Funding
bioMérieux organized the 4th World Forum on Healthcare-Associated Infections. The funding body had no role in the collection and interpretation of data presented, including the writing of the manuscript, nor in the decision to submit the manuscript.
Authors' Affiliations
(1)
Infection Control Programme and WHO Collaborating Centre on Patient Safety, University Hospitals of Geneva, Geneva, Switzerland
(2)
Fondation Hôpital St Joseph, Paris, France
(3)
Division of Infectious Diseases, Johns Hopkins University School of Medicine, Baltimore, USA
(4)
Department of Medical Microbiology, Vaccine and Infectious Disease Institute, University of Antwerp, Wilrijk, Belgium
(5)
Department of Infectious Diseases and Immunity, Imperial College London, The Centre for Infection Prevention and Management, London, UK
(6)
Laboratory of Bacteriology-Hygiene, Assistance Publique-Hôpitaux de Paris, Hôpital Pitié-Salpêtrière, Université Pierre et Marie Curie-Paris 6, Paris, France
(7)
Department of Medical Microbiology and Infection Control, Radboud University Nijmegen Medical Centre and Canisius-Wilhelmina Hospital, Nijmegen, The Netherlands
Copyright
© Huttner et al.; licensee BioMed Central Ltd. 2013
This article is published under license to BioMed Central Ltd. This is an Open Access article distributed under the terms of the Creative Commons Attribution License (http://creativecommons.org/licenses/by/2.0), which permits unrestricted use, distribution, and reproduction in any medium, provided the original work is properly cited. The Creative Commons Public Domain Dedication waiver (http://creativecommons.org/publicdomain/zero/1.0/) applies to the data made available in this article, unless otherwise stated.