Effectiveness of various cleaning and disinfectant products on Clostridium difficile spores of PCR ribotypes 010, 014 and 027
Antimicrobial Resistance & Infection Control
2017
6:54
Received: 23 January 2017
Accepted: 25 May 2017
Published: 3 June 2017
Abstract
Background
In healthcare facilities, Clostridium difficile infections spread by transmission of bacterial spores. Appropriate sporicidal disinfectants are needed to prevent development of clusters and outbreaks. In this study different cleaning/disinfecting wipes and sprays were tested for their efficacy against spores of distinctive C. difficile PCR ribotypes.
Methods
Four different products were tested; 1) hydrogen peroxide 1.5%; 2) glucoprotamin 1.5%; 3) a mixture of ethanol, propane and N-alkyl amino propyl glycine; and 4) a mixture of didecyldimonium chloride, benzalkonium chloride, polyaminopropyl, biguanide and dimenthicone as active ingredients. Tiles were contaminated with a test solution containing a concentration of 5x106CFU/ml spores of C. difficile strains belonging to PCR ribotypes 010, 014 or 027. The tiles were left to dry for an hour and then wiped or sprayed with one of the sprays or wipes as intended by the manufacturers. When products neutralized after 5 min, microbiological cultures and ATP measures were performed.
Results
Irrespective of the disinfection method, the microbial count log10 reduction of C. difficile PCR ribotype 010 was highest, followed by the reduction of C. difficile 014 and C. difficile 027. Overall, the wipes performed better than the sprays with the same active ingredient. On average, although not significantly, a difference in relative light units (RLU) reduction between the wipes and sprays was found. The wipes had a higher RLU log10 reduction, but no significant difference for RLU reduction was observed between the different C. difficile strains (p = 0.16).
Conclusion
C. difficile spores of PCR ribotypes 014 and 027 strains are more difficult to eradicate than non-toxigenic PCR ribotype 010. In general, impregnated cleaning/disinfection wipes performed better than ready-to-use sprays. Wipes with hydrogen peroxide (1.5%) showed the highest bactericidal activity.
Keywords
Cleaning/disinfecting wipesCleaning/disinfecting sprays C. difficile ATPCFU
Background
Currently C. difficile is emerging worldwide in healthcare facilities [1]. The incidence of C. difficile infections doubled between 2001 and 2010 in the United States of America [2–5]. C. difficile is an important health threat associated with morbidity, mortality, and extra costs. The costs caused by C. difficile are estimated between $8911 and $30,049 per case [3, 5]. These costs arise due to direct healthcare costs and due to longer hospital stays. The yearly national excess hospital cost associated with hospital-onset C. difficile is estimated to be €4 billion for Europe, $1 billion in the United States of America and $280 million in Canada [5, 6]. Effective infection control measures are therefore greatly needed.
The hospital environment is known to be a key pathway for patients to acquire C. difficile infections (CDI). Spores of C. difficile can survive in hospitals for years [7]. New views on the transmission of C. difficile conclude that asymptomatic carriers can also introduce the bacteria into the hospital and may consequently play an important part in the transmission to other patients. Still, the chance of transmission from asymptomatic carriers is probably lower than from patients with a CDI [8, 9]. Guidelines to date only advise to take extra measures with CDI diagnosed patients, for example the guideline for disinfection and sterilization in healthcare facilities, 2008, of the Centers of Disease Control and Prevention (CDC).
To disinfect environments contaminated with C. difficile, it is generally advised to use an unbuffered 1:10 dilution of hypochlorite [10]. It is known that hypochlorite does not enhance sporulation and when used for environmental disinfection leads to a significant reduction of C. difficile-associated diarrhea [11]. However, hypochlorite has to be used in excessive concentrations to be effective, thereby increasing its toxic and corrosive properties. Therefore, alternative agents are needed to eradicate spores of C. difficile.
In the present study, four products were tested that are most commonly used as cleaning and disinfecting products in hospitals in the Netherlands. These products were tested for their efficacy against three different C. difficile PCR ribotypes, representing an outbreak related PCR ribotype (027), an endemic PCR ribotype (014) and a non-toxigenic PCR ribotype (010).
Results
CFU - reduction
The overall CFU reduction was highest for
C. difficile
PCR ribotype 010 (log
10
4.50, 95% CI 4.37–4.69), followed by the effect against
C. difficile
PCR ribotype 027 (log
10
3.60, 95% CI 3.44–3.76) and
C. difficile
PCR ribotype 014 (log
10
3.75, 95% CI 3.59–3.92). The CFU reduction of the tested products was significantly less for
C. difficile
014 and 027 in comparison to
C. difficile
010 (
p
< 0.001). The marginal estimated mean in log
10
CFU reduction per product is shown in Table
2
.
Table 2
Mean log10 bacterial load reduction and mean log10 RLU reduction of cleaning/ disinfection products with 95% confidence intervals (CIs)
| Product | Log10 CFU reduction | Log10 RLU reduction |
| --- | --- | --- |
| Wipe A | 3.91 (CI 3.66–4.16) | 1.86 (CI 1.78–1.94) |
| Spray A | 3.08 (CI 2.83–3.33) | 1.67 (CI 1.67–1.84) |
| Wipe B | 5.29 (CI 5.04–5.54) | 1.86 (CI 1.77–1.94) |
| Spray B | 4.08 (CI 3.83–4.33) | 1.45 (CI 1.36–1.53) |
| Wipe C | 4.69 (CI 4.44–4.94) | 1.67 (CI 1.58–1.75) |
| Spray C | 3.09 (CI 2.84–3.34) | 1.54 (CI 1.46–1.62) |
| Spray D | 3.59 (CI 3.34–3.84) | 1.56 (CI 1.48–1.64) |
Wipe B had the highest log10 CFU reduction of 5.29 (95% CI 5.04–5.54) for the wipes and spray B had the highest log10 CFU reduction of 4.08 (95% CI 3.83–4.33) for the sprays. The efficacy between wipe B and spray B is significantly different (p < 0.001). Wipe B with a 1.5% hydrogen peroxide concentration was the only product to reach a 5log10 CFU reduction for all the C. difficile strains tested. Overall the wipes were more effective than the sprays with the same active ingredient (all; p < 0.001).
In the experiment no significant difference in efficacy of the tested products between test solution A and B (p = 0.50) was found according to ANOVA.
The estimated marginal mean log
10
CFU reductions of
C. difficile
for all products and test solutions are shown in Figs.
1
and
2
. Figure
1
demonstrates that wipes B and spray B were the most effective against all tested PCR ribotypes. A discrepancy in mean log
10
bacterial removal for wipe B is seen between the two organic contamination solutions, as wipe B performed better with "high" organic contamination (B). Figure
2
also shows that in a high organic contamination environment, wipe B was especially most effective for ribotype 027.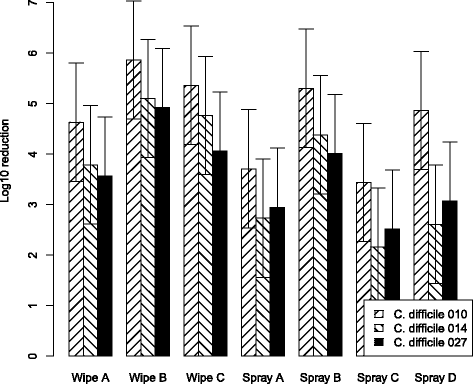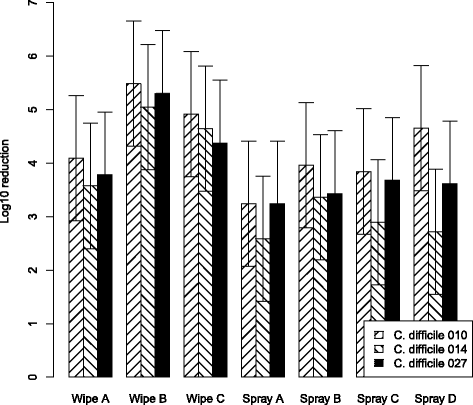 ATP – reduction
On average the RLU log10 reduction of C. difficile 010 was 1.70 (95% CI 1.65–1.76), for C. difficile 014 1.67 (95% CI 1.61–1.72) and for C. difficile 027 1.64 (95% CI 1.58–1.69).
The tested products had different RLU log10 reductions (Table 2). The most effective products in removing the test soil were wipes A and B with a RLU log10 reduction of 1.86 (95% CI 1.77–1.94). For products A and C no significant difference was found in effectiveness between the spray and wipe (p = 0.62 and p = 0.36). Product B had a significant difference in its effectiveness between the wipe and spray (p < 0.001).
The RLU log10 reduction differed significantly between test solutions A and B (p < 0.001), whereas no significant difference for RLU reduction was seen between the different C. difficile strains (p = 0.16).
The estimated marginal mean of RLU log
10
reduction per bacteria for both test solutions is shown in Figs.
3
and
4
. Figure
3
reveals that all wipes (except wipe C) and sprays had greatest protein removal against ribotype 027. In addition a discrepancy in protein reduction for
C. difficile
PCR ribotype 027 between the organic solutions A and B is shown, the activity of the wipes and sprays was smaller in the 'high' organic solution.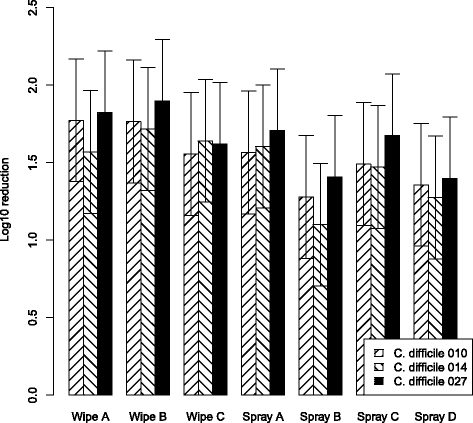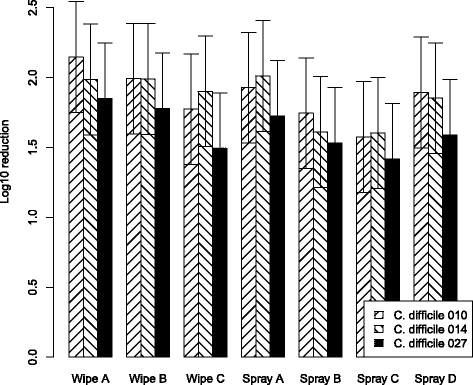 Discussion
CDI is a serious infection, with an all cause 30-day mortality of 15% or greater, that warrants a variety of infection control measures to prevent and control its occurrence [19]. Effective cleaning and disinfection is an essential prerequisite to prevent the spread of CDI within healthcare settings. Presently, chlorine-based products are the mainstay with regard to environmental disinfection in the Netherlands, but alternative, ready-to-use products are needed to ensure consistent cleaning. We therefore tested the effectiveness of different cleaning/disinfecting wipes and sprays against spores of C. difficile PCR ribotypes 010, 014 and 027. These ribotypes were chosen because of their differences in virulence and transmission potential. C. difficile ribotype 010 does not produce toxins and therefore is unable to cause CDI in humans. In contrast, C. difficile PCR ribotype 027 is known for its "hypervirulence". It is associated with increased morbidity and mortality [15, 20, 21], as well as its potential to cause large outbreaks. Currently, this type is found in 1.2% of all characterized isolates sent to the National Reference Laboratory in the Netherlands [21]. The third tested strain PCR ribotype 014 produces toxin A and B and is the most prevalent (17%) PCR ribotype in the Netherlands [21].
The overall effectiveness of products measured by log10 CFU reductions ranged from 3.09 (spray A) to 5.29 (wipe B). While to date a European standard for an in vivo test that mimics the real-life situation for sporicidal effectiveness is missing, the EN 13704 'suspension test' requires a 3 log10 CFU reduction after 60 min. All products, in all application forms, would therefore pass this European norm. Given the fact that higher numbers of spores are found in the hospital environment [20] and that patients with a CDI can excrete up to 1 × 107 spores per gram feces [5], a more realistic EN test should be developed that mimics real-life bacterial/spore loads and cleaning times of less than 60 min. We would recommend a significantly higher (e.g. a 5 log10) CFU reduction for effective control of C. difficile transmission, as was also proposed by Fraise et al. [20]. Our tests show that this requirement is feasible, as shown by the fact that wipe B achieved a 5.29 log10 CFU reduction.
When comparing the mean log10 CFU reductions by application type (wipe versus spray), it became obvious that the ready-to-use wipes were outperforming the sprays using a paper towel by 0.81 to 1.60 log10 CFU reductions. The differences in log10 CFU reduction between the wipe and spray with the same active ingredient were consistently observed for all products tested in both application forms (A, B and C). While not as pronounced, the differences in log10 CFU reductions were also apparent in log10 RLU reductions, with the three highest log10 RLU reductions seen for wipes and the lowest for sprays. This difference between wipes and sprays could possibly be explained by the "mechanical" effect involved with cleaning/disinfecting. Studies similar to ours, but using detergent wipes achieved an average log10 CFU reduction of 1.63, which is exactly within the range of difference we observed with wipes and sprays [22, 23]. Clearly, the application form is responsible for a significant part of the effect in addition or combination with the disinfecting active compound. As we compared wipes against sprays plus paper towels, some may argue that the difference in effect is due to the difference in mechanical effect of the different materials used for wiping. Based on a study by Diab-Elschahawi et al., who compared microfibers, cotton cloths, sponge cloths and paper towels for their decontamination abilities, without finding a significant difference [16], we conclude that the difference between wipes and sprays in our study cannot be explained by the difference in wiping material.
Although sprays were used according to the suppliers' instructions, surface coverage as well as the actual contact time and number of wiping movements might be different to the use of impregnated wipes. Wipes B and C were available as ready-to-use wipes and wipe A needed to be prepared in a reusable container. Ready-to-use wipes eliminate the possibility of human errors that could make the disinfectant less effective or make the wipes unnecessarily toxic.
In addition to the application method and the compound used, our results indicate that the individual C. difficile strain is of importance with regard to the effect of cleaners/disinfectants. While CFU reductions were highest for the non-toxin producing C. difficile ribotype 010 in a low organic contamination environment, they were lower for the clinically more important ribotypes 014 and 027. Interestingly, the differences in effectiveness were less pronounced and, in the case of wipe B, even reversed in a high organic contamination environment. While our results in this regard are not fully conclusive, they certainly indicate the importance of including a variety of clinically relevant ribotypes when evaluating the effect of disinfectants against C. difficile.
Conclusion
In conclusion C. difficile spores of 014 and 027 strain are harder to eliminate compared to those of the non-toxigenic strain 010. Future studies should use these more resilient types of C. difficile to ensure the needed in-vivo effect. Impregnated cleaning/disinfection wipes generally outperform ready-to-use sprays, even if based on the same active ingredient, and should thus be preferred over sprays for the daily cleaning/disinfection in rooms of patients with CDI. While all products pass current EN 13704 standards we believe that - given the in-vivo load of Clostridium spores - higher standards should be set, such as those achieved by the products based on 1.5% of hydrogen peroxide.
Abbreviations
ANOVA:

Analysis of variance
ATP:

Adenosine triphosphate
CDI:

C. difficile infections
CFUs:

Colony forming units
PBS:

Phosphate buffered saline
RLU:

Relative light units
Declarations
Acknowledgement
Not applicable.
Availability of data and materials
Please contact author for data requests.
Authors' contributions
SW and IJ carried out the practical work, NK, IH, EK, AV participated in its design and coordination and helped draft the manuscript. JR performed all statistical analyses for this study. All authors read and approved the final manuscript.
Competing interests
The authors declare that they have no competing interests.
Consent for publication
Not applicable.
Ethics approval and consent to participate
Not applicable.
Open AccessThis article is distributed under the terms of the Creative Commons Attribution 4.0 International License (http://creativecommons.org/licenses/by/4.0/), which permits unrestricted use, distribution, and reproduction in any medium, provided you give appropriate credit to the original author(s) and the source, provide a link to the Creative Commons license, and indicate if changes were made. The Creative Commons Public Domain Dedication waiver (http://creativecommons.org/publicdomain/zero/1.0/) applies to the data made available in this article, unless otherwise stated.
Authors' Affiliations
(1)
Department of Infection Prevention and Control, Albert Schweitzer Hospital, Dordrecht, The Netherlands
(2)
Department of Medical Microbiology, Albert Schweitzer Hospital, Dordrecht, The Netherlands
(3)
Department of Biostatistics, Erasmus MC, Rotterdam, The Netherlands
(4)
Section Experimental Bacteriology, Department of Medical Microbiology, Leiden University Medical Center, Leiden, The Netherlands
(5)
Department of Medical Microbiology, Radboud University Medical Centre, Nijmegen, The Netherlands
(6)
Department of Medical Microbiology, Canisius-Wilhelmina Hospital, Nijmegen, The Netherlands